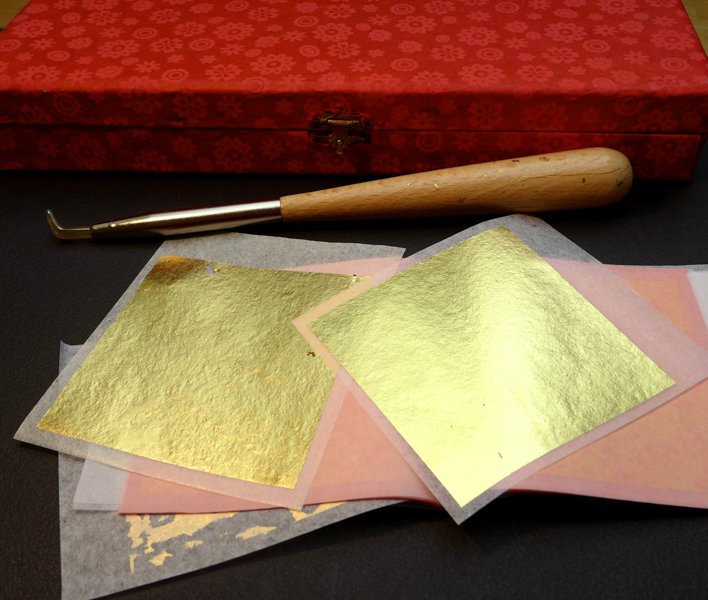 Applying gold leaf – Pose de la feuille d'or
For all my paintings, I use 23 karat gold leaf. There are two ways to apply gold leaf – gold details which are applied carefully to areas of the painting chosen for the gold and gold background where the gold leaf is applied to a larger area around the design and then painted, a bit like "painting through gold". Both methods require accuracy and precision.
Once applied, the excess gold is removed and burnished with a special tool, followed by the painting process which takes between 15 to 20 hours to complete.
La pose de la feuille d'or
Pour mes enluminures, j'utilise de la feuille d'or 23 carats. Il y a deux méthodes pour appliquer la feuille d'or – détails en or où la feuille est appliquée délicatement aux endroits choisis sur l'enluminure et – sur fond d'or où la feuille est appliquée sur la plupart de l'enluminure laissant apparaitre le motif à peindre, c'est en quelque sorte comme "peindre à travers l'or".
Ces deux méthodes demandent precision et délicatesse lors de l'application. L'or est ensuite bruni à l'aide d'un outil spécial qui permet de faire briller, puis l'enluminure est délicatement peinte à la main, procédé qui demande environ 15 à 20 heures de travail.