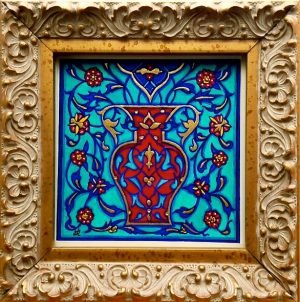 Turkish Vase – Vase de Turquie
For "Turkish Delights" exhibition, I found my inspiration in the beauty of Turkish tile designs. I created a collection of small paintings combining the use of gold leaf, Turkish blue and vibrant colours. This little vase was featured on the invitation.
Vase de Turquie
Pour l'exposition intitulée "Turkish delights" en 2016, je me suis inspirée des motifs de mosaiques de Turquie, en particulier de Iznik. J'ai créé une série d'enluminures mélangeant la feuille d'or avec le traditionel bleu de Turquie et autres couleurs vives. Ce petit vase figurait sur la carte d'invitation de l'exposition.